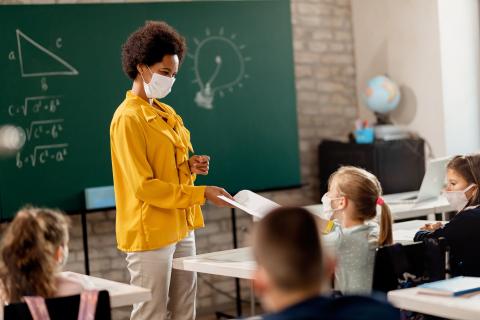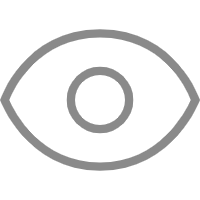 0
News Brief on China Education Industry
Updated on 03/15/2023
Below is the recap of China education news. Sources are right after the main texts.
Global News
New Adjustments to Chinese Visa and Entry Policies
In order to facilitate the people-to-people exchanges between China and other countries, new adjustments have been made to Chinese visa and entry policies, as effective from 12:00 a.m. on March 15, 2023 Beijing time. According to the notice released by Chinese embassy in the U.S., foreigners with valid visas issued before March 28, 2020 will be allowed to enter China; all categories of Chinese visas can be applied for. Detailed requirements and procedures for Chinese visa application have already been updated on the official website of Chinese embassy.
(Source: Chinese embassy in the U.S.)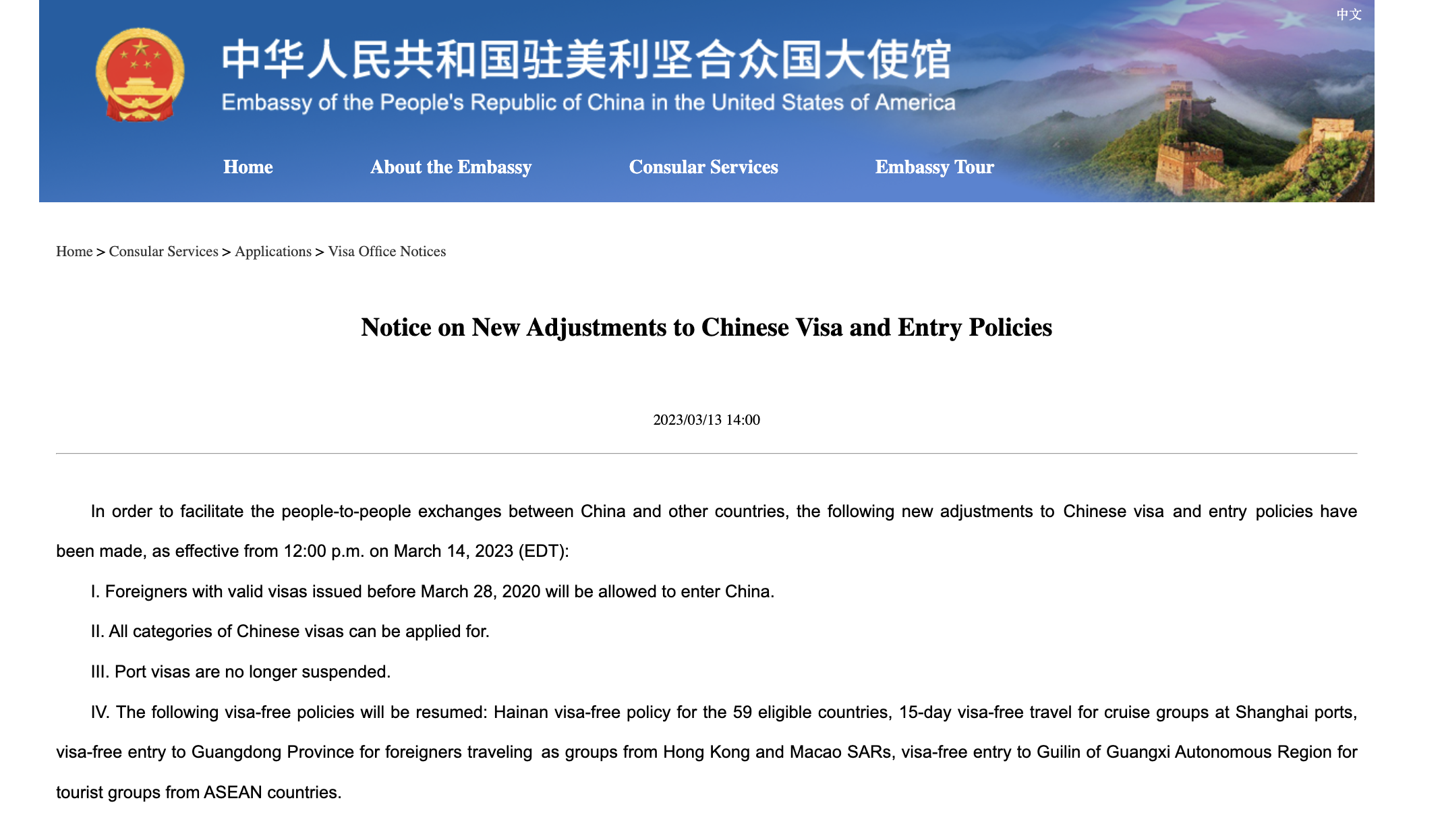 IB Programme Allows Students to Use ChatGPT for Writing Essays
According to The Guardian, the International Baccalaureate (IB) programme has publicly allowed students to use ChatGPT for writing essays, but the source of the content must be disclosed. The Head of IB Assessment Principles and Practice stated that a chatbot should be seen as "an extraordinary opportunity", and that citing content from ChatGPT in original assignments is no different from citing relevant content from other sources, but students must indicate the source of the content and correctly label the references in their essays. At the same time, it emphasized that standard academic behavior is necessary, and treating AI-generated content as one's own original work is an academic misconduct and may have a series of consequences.
(Source: The Paper News)
Multiple Countries Lift Requirement for COVID-19 Test for Entry from China
On March 10, the US Centers for Disease Control and Preventionannounced the cancellation of mandatory COVID-19 testing requirements for Chinese travelers entering the U.S. Starting from 4 a.m. on March 11 Beijing time, passengers departing from China's mainland, Hong Kong, Macao, and other designated airports to the U.S. will no longer need to provide proof of a negative COVID-19 test or a certificate of recovery.
Australia, South Korea, Japan and European Union have also lift the requirement for pre-departure COVID-19 testing for passengers arriving from China's mainland, Hong Kong, and Macao.
(Source: People's Daily)
Industry Insights
Shenzhen Futian District Welcomes its First IB Bilingual School
Shenzhen New Vision Bilingual School held its IB curriculum launch event recently. The school has officially obtained the pre-qualification for the school's core curriculum - the IBDP (International Baccalaureate Diploma Programme), which will lay a solid foundation for New Vision School to open up a diverse international curriculum under the leadership of the IB educational philosophy.
(Source: Shenzhen News Network)
DTD Education and BGI Mammoth Education Officially Reach Strategic Cooperation
DTD Education, a K-12 education brand under Vanke, and Mammoth Education under BGI, the world's largest genomics research and development institution, officially signed a strategic cooperation agreement in Shenzhen to deepen their cooperation in youth life science education in Shenzhen on March 9. The curriculum cooperation can help students better understand the development trends and latest achievements in biological science, expand their international perspective, and enhance their overall abilities.
(Source: DTD Education Observation)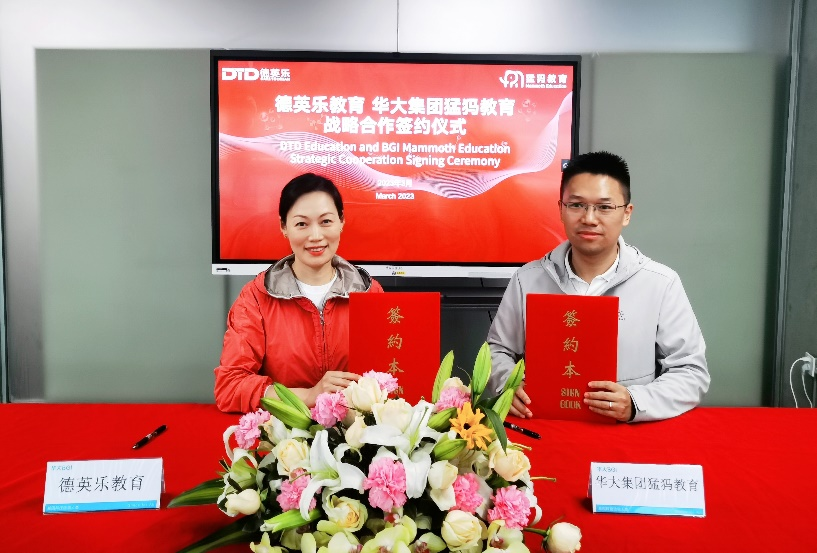 China Basis International/Bilingual School Established a Friendly School Relationship with Morton Hall School
Recently, the prestigious academic institution China Basis International/Bilingual School has established a friendly school relationship with Morton Hall School, a hundred-year-old private school in the UK. The two schools will cooperate in education and teaching, extracurricular activities, study tours, cultural exchanges, and resource sharing. Students from both schools will have the opportunity to exchange and learn through inter-school visits.
Starting from the 2023-2024 academic year, students from grades 5 to 8 at China Basis School will go to Morton Hall School in the UK for a two-month immersive experience of academic atmosphere and campus life of elite education in the UK, in one of the four academic semesters each year. At the same time, students from Morton Hall School will also visit China Basis School for a learning visit.
(Source: China Daily)
Cooperation between ULC Cambridge International High School and St. Paul's Girls' School Entered into a New Phase
The cooperation project between Guangzhou ULC Cambridge International High School and St. Paul's Girls' School in the UK has entered a new phase. Since establishing a strategic partnership, the two schools have achieved a series of pleasing results. In the new year, the two schools will continue to deepen their comprehensive cooperation in academic exchange, teacher training, student exchange activities, sharing educational information and teaching resources.
Starting from the 2023-2024 academic year, ULC students will have the opportunity to regularly visit St. Paul's Girls' School for immersive learning in one of the top private schools in the UK. As part of the exchange project, some students from St. Paul's Girls' School who are interested in Chinese language and culture will also come to China and visit ULC, and engage in in-depth exchanges with the students there.
(Source: Sohu News)
The 23rd China International Education Conference and Exhibition successfully held in Beijing
With the strong support of the Ministry of Education, the 23rd China International Education Conference and Exhibition, organized by the China Education Association for International Exchange, was held in Beijing. The theme of this year's conference was "Adaptation and Change - Reshaping Our Education". The conference invited elites from the global education industry, as well as representatives from governments, enterprises, and various sectors of society to focus on the changes in global education development, gather the wisdom of global education elites, and look forward to the future development of global education.
(Source: People's Daily)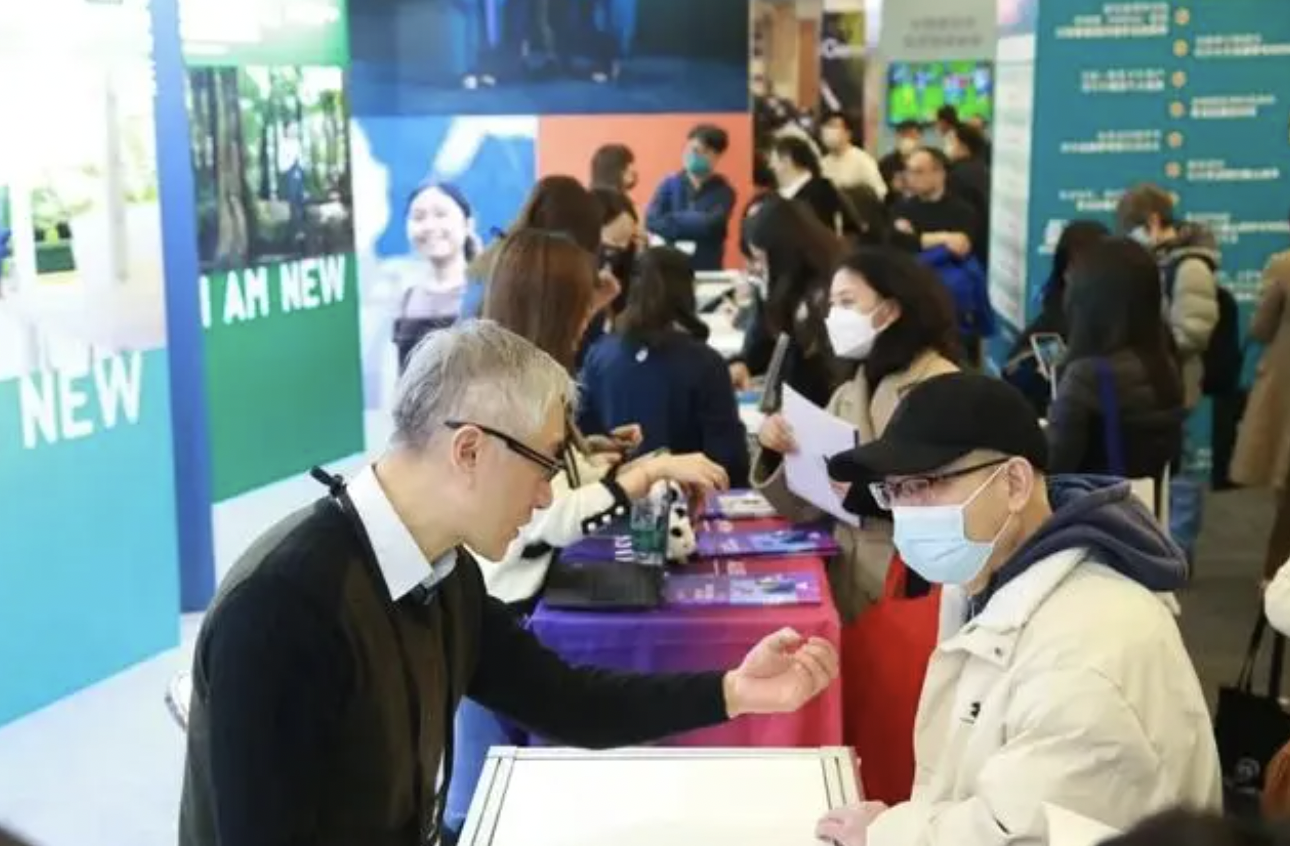 Educational Policy
Shenzhen Baoan District: Comprehensive Promotion of Go Education in Grades 1-3
Baoan District in Shenzhen will comprehensively promote Go education in Grades 1-3 of primary schools, with one class per day. Optional courses will be offered for students in grades 4-9 to cultivate students who have strong interests in Go. At the same time, Baoan District will organize experts to conduct special supervision on the Go education of each school, ensuring the high-quality development of Go education in an all-round way.
(Source: China Education News)
Beijing: Advertising Activities Prohibited in Primary and Secondary Schools and Kindergartens
Recently, the Beijing Municipal Administration for Market Regulation issued the "Compliance Guidelines for Advertising Activities in Beijing". The guidelines have provisions for protecting minors from advertising, specifically stating that advertising activities are prohibited in primary and secondary schools and kindergartens.
According to the guidelines, publishing advertisements on items or in places that students frequently use or encounter is not allowed, except for public service advertisements. Advertising for medical products, pharmaceuticals, cosmetics, alcoholic beverages, beauty products and online games is not permitted as well.
(Source: Beijing Youth Daily)
If you are interested in any topic above, and would like to have an insight into it, please sign in to leave comments. Also, you are welcomed to visit TTJ Blogs for more industry insights.